How to Open Outlook in Safe Mode : Get Your Query Answered Here!
Safe mode of Microsoft Outlook enables user to use the program with limited functionality and features. Sometimes running Outlook in safe mode may help to resolve errors automatically. It's basically start-up operation mode for operating system execution, if you have the option to launch Outlook in safe mode manually, it may start in safe mode automatically when a problem occurs. Read this blog to understand about how to open Outlook in safe mode to resolve problems quickly.
Sometimes while trying to open Outlook it prompts to open the application in Safe Mode with a message that some functionality may be disabled in this mode. Do you want to start Outlook in safe mode?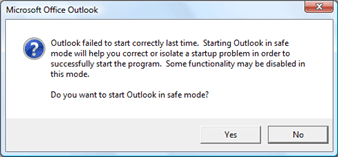 You have option to click on "Yes" if you want to open the Outlook application in safe mode or you can click no if you don't want to run Outlook in safe mode. This messages is thrown to users if any problems occurred in last session of Outlook. However, many users prefer to open Outlook in safe mode if MS Outlook is not running properly.
Let's See How to Open Outlook in Safe Mode
Different versions of Windows OS use different procedures to start outlook in safe mode. See the below section of this blog to understand different procedures.
Procedure 1: Open Outlook.exe
Windows Vista/Windows 7:
Go through Start menu.

Type cmd and press Enter key to open a Command Prompt.

Type outlook.exe /safe and press Enter. It will start MSOutlook in safe mode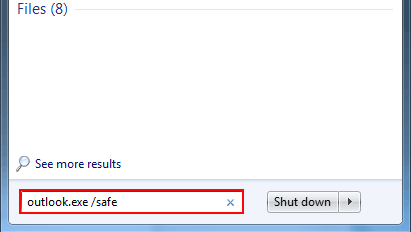 Windows 8:
Here, a search box is automatically shown. So simply open Start Screen. Type; outlook.exe /safe and press Enter.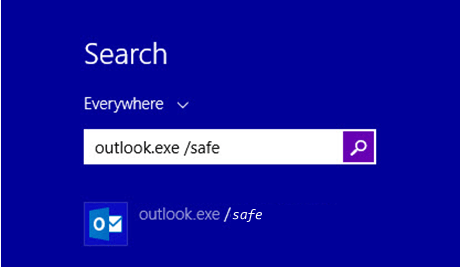 Procedure 2: Using CTRL Key

You can also hold the CTRL key and click MS Outlook shortcut kit. This will help Outlook to detect that you want to start the application in Safe mode. If you are searching for outlook.exe, and your system was not able to find it. You can visit directly to the full location by going through C:\Program Files\Microsoft Office\Office. Opening Outlook in safe mode allow Outlook to open without any additional add-on or plug-ins as such additional files are causing troubles in Outlook application. But if Outlook application still shows errors or issues with its execution, there might error with the storage file. Sometimes, corrupted file produces error.
In such situation, it is recommended to repair your corrupt OST file or recover data from the OST file with the help of OST file recovery tool. It will help to resolve all the issues with Outlook application while opening Outlook application in safe mode.